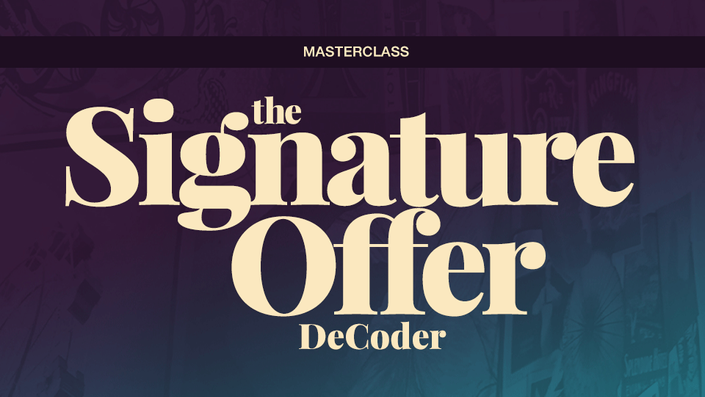 Signature Offer DeCoder w/Masterclass DUO
DeCodeAll.Your.Ideas
into one Highly Profitable - Exquisitely Aligned Signature Offer
that your perfect-fit clients need ...and you adore!
"The DeCoder process is like like KonMari for my ideas, I love it!"
When you create a Signature offer that is super-aligned with you and stemming directly from your prodigy zone:

Your work becomes fun
Your marketing becomes easy
You love what you offer
You get to work with your perfect-fit clients
Bottom line: I want you to develop a super-aligned, highly profitable business and create your signature offer right from that sweet spot.
I WANT that business for you.
I KNOW it's possible.
I've done it MYSELF.
I've HELPED many others do it.
And I want to help YOU.
The Materials
Welcome!
Available in days
days after you enroll
Signature Offer DeCoder
Available in days
days after you enroll
The DeCoder Masterclass DUO
Available in days
days after you enroll
The ADDED BONUS of the
MASTERCLASS DUO
Do you learn and understand best by seeing concrete examples?
Join me as I move through the DeCoder workbook with you in real time, using specific, in-depth examples. Smooth sailing, darling.
Do you get tired of doing it all on your own?
These classes are like having a fairy godmother (that would be me!) sitting by your side whispering helpful tips in your ear as you move through the process.
Do you tend to freeze in the maddening land of ideas and struggle with
knowing what to take action on?
Let me help you get all those swirling ideas out of your head and down in concrete form –– and to give you the steps to take immediate action.
MASTERCLASS BREAKDOWN
Masterclass 1:

Does the idea of choosing one, single audience niche freak you out? It's okay, you can tell me the truth. It's more common than you would think.
It can be anxiety-producing to try and choose just one audience to serve. This class breaks down how to niche and includes a detailed
Masterclass 2:
Get an in-depth breakdown that will help you fully articulate your ZONE, your PEOPLE and their NEED to create your perfectly aligned Signature Offer.
If you have struggled in the past with clearly identifying ANY of these three essential components, this class will walk you step-by-step through to completion. Voila - you did it!